Butch Yarbrough and Kathy Lerma win Final Lake Guntersville Couples 2018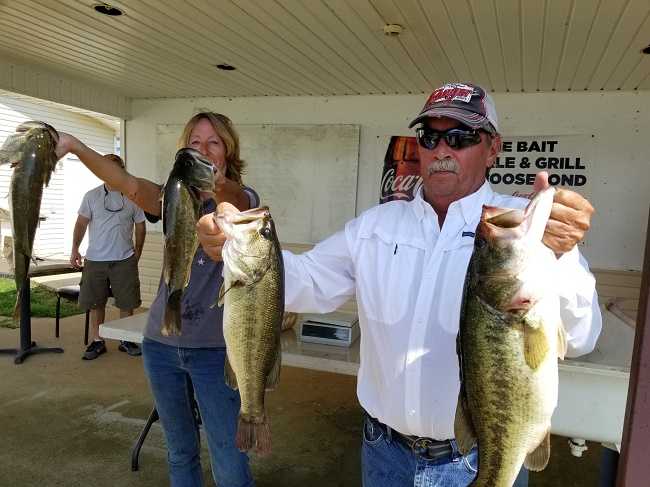 Butch Yarbough and Kathy Lerma of Harvest, Alabama won the final Alabama North Couple event held on Lake Guntersville the 11th of August 2018. This couple brought in five-fish weighing 18.21 pounds. Butch also won the Men's Big Bass pot with his 6.98-pound lunker. Butch shared that they had many blowups and numerous keepers. Four teams competed in this very tough and hot event with three of them finding limits. The lake has been very stingy as the summer has lingered on.
Alabama North Anglers of the Year
Ken and Pam Draskovic of Scottsboro Alabama distanced themselves from the competition again this season to finish with the most points for the second year in a row. They also placed second in this event with 13.12 lbs. Pam showed her skills by catching Ladies Big Bass with her 4.51 lb largemouth.
Third place team was a Mother and Son team from Tennessee, Michelle Norrod and Austin Daniels with 11.62 lbs.
The fourth place team of Mike Garlen and Rhonda Ford with 9.15 lbs. Mike landed 5.19 lb bass to anchor their stringer.
Next Divisional Tournament: This division's next tournament for the 2019 season is TBA.
For more information on this or any future event in this division contact MikeGarlen 256-998-0171
All ABA American Couples Series events involve a team format with each team composed of one man and one woman. Contestants between the ages of 14 and 16 years old may participate with a parent's written permission.
The top angling couples from across the nation earn the right to compete in the annual American Bass Anglers Couples Series National Championship Tournament.
American Bass Anglers commitment is to provide low cost, close to home tournaments for the weekend angler and at the same time offer each competitor an upward path for individual angler progression. For more information about the American Bass Anglers and the American Fishing Tour, the Open Series, the 100% Plus Team Tour, or the American Couples Series visit www.AmericanBassAnglers.com .
American Bass Anglers, Inc. is supported by Triton Boats, Mercury Outboards, Hydrowave, T-H Marine, ABU Garcia, Berkley, Garmin, Maui Jim, Power Pole, Sirius XM, Optima Batteries and GEICO.
American Bass Anglers, Inc. can be contacted @ (256)232-0406 or visit www.AmercanBassAnglers.com