Tricia Wood and Bill Cain Dominate on Lake Hartwell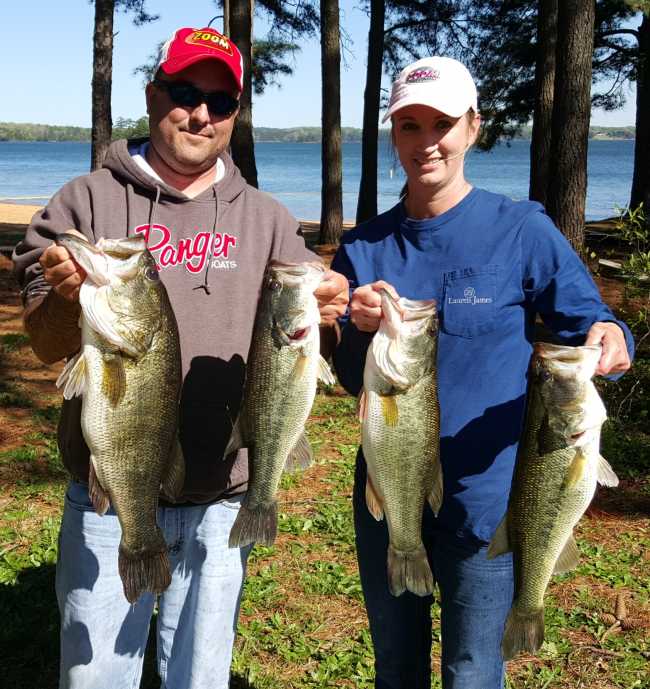 A cool misty morning on Lake Hartwell did not deter 37 South Carolina Couples Teams on Saturday, April 2. An overcast morning led to afternoon winds as high as 25 mph. All of the teams safely handled the conditions.
Some solid 5-fish limits of fish were weighed. But, none came close to the 25.1-pound sack turned in by Tricia Wood and Bill Cain. This bag included Tricia's Ladies Big Fish at 4.3 pounds. Bill's monster 8-pounder easily claimed the Men's Big Bass award. Bill and Tricia shared that they caught their fish on points with swimbaits near the Hartwell dam in less than eight feet of water. They also got a few on topwater in the morning.
Second place was claimed by Stacie Guy and Cody George with an awesome limit at 16.9 pounds. Their fish were caught sight fishing near the dam. Cody's nice 4.9-pounder was "runner-up" for Men's Big Fish.
Third place went to Donna and John Branstetter with 12.1 pounds. Their limit was also caught sight fishing with worms. Donna's 3.3-pounder went a long way to get their team in a top spot for the tournament. John also said their Abu Garcia tackle and Berkley Trilene Fluorocarbon helped secure a great tournament finish.
There were plenty of hefty sacks weighed in at the Hartwell tournament. The high turn-out allowed 7 teams to get a check.
Forth Place: Susan and John Mills from Leesville, SC: 12.0 pounds
Fifth Place: Sherri McGee and Jaris McGee, Anderson, SC: 11.6 pounds
Sixth Place: Rachel Richardson and Joe Richardson, Toccoa, GA, 11.5 pounds
Seventh Place: Kristen and Shayne McFarlin, Martin, GA, 11.1 pounds
Friday evening and Saturday afternoon dinners were well attended. There were eight new teams for the South Carolina Couples:
- Sheila Attaway and Grover Jones from Starr, SC
- Kimberly Campbell and Harry Johnson from Inman, SC
- Rhonda and John Imand from Anderson, SC
- Vanessa Anderson and Jeff Atcheson from Cummings, GA
- Heather and Jason Maxwell from Carnesville, GA
- Earline and Arthur McBride from Thomson, GA
- Kristen and Shayne McFarlin from Martin, GA
- Stacie Guy and Cody George
Susan and Ron Carson brought significant discount coupons and koozies from their Jersey Mikes business for all of the participants. Generous contributions like this help make everyone feel like a winner!
Continued thanks to Strickland Marine for their contribution of three gallons of Mercury Optimax oil given as drawing prizes to those that didn't qualify for a cash prize. Also, Cabela's donated an excellent medium-heavy fishing rod for this drawing. A Yo-Zuri prize pack, and lens cleaning kits from local Jervey Eye Group were also snatched in the drawing. It should be noted that only happy faces were visible during the drawing.
Yeti's visors and a "rambler colster" were quickly picked up from the drawing table. In a quick poll of the large audience, only great things were said about Yeti's product line.
South Carolina's next Couples Series tournament is on Lake Keowee on April 23. The event will launch from South Cove Park in Seneca, SC. For more information, call 864-630-3183 or email sc.aba.couples@aol.com.
All ABA American Couples Series events involve a team format with each team composed of one man and one woman. Although many married couples compete together as teams, some teams consist of boyfriend and girlfriend combinations, parent-child combinations or just two friends. Contestants between 12 and 18 years old may participate with a parent's written permission.
The top angling couples from across the nation earn the right to compete in the annual American Bass Anglers Couples Series National Championship tournament.
American Bass Anglers commitment is to provide low cost, close to home tournaments for the weekend angler and at the same time offer each competitor an upward path for individual angler progression. For more information about American Bass Anglers and the American Fishing Tour, The Ram Truck Open Series, or the American Couples Series, visit www.americanbassanglers.com or call (256) 232-0406