Donna and John Branstetter Win on Lake Murray
By: Don and Martha Goodfellow
Spring fever had a grip on South Carolina bass anglers on Saturday, March 12. Thirty-seven teams were at the ramp for the pre-dawn safety meeting. A comfortable 55 degree morning yielded afternoon temperatures in the high 70's. Light breezes contributed to a beautiful spring day.
Donna and John Branstetter took first place honors with a five-fish sack weighing 18.9 pounds. Donna's four-pounder was a significant contributor to their winning weight. Their early fish were caught with weightless worms over grass in a foot of water. They flipped craws to shallow targets the rest of the day. John also attributed their success to their Abu Garcia tackle and Berkley Trilene fluorocarbon line. Donna and John live in Lexington, South Carolina.
April and Gary Michaud took second place with 17.9 pounds. Their five-fish sack included April's three-pounder and Gary's 4.9 pounder. The Michaud's hail from Chesnee, South Carolina.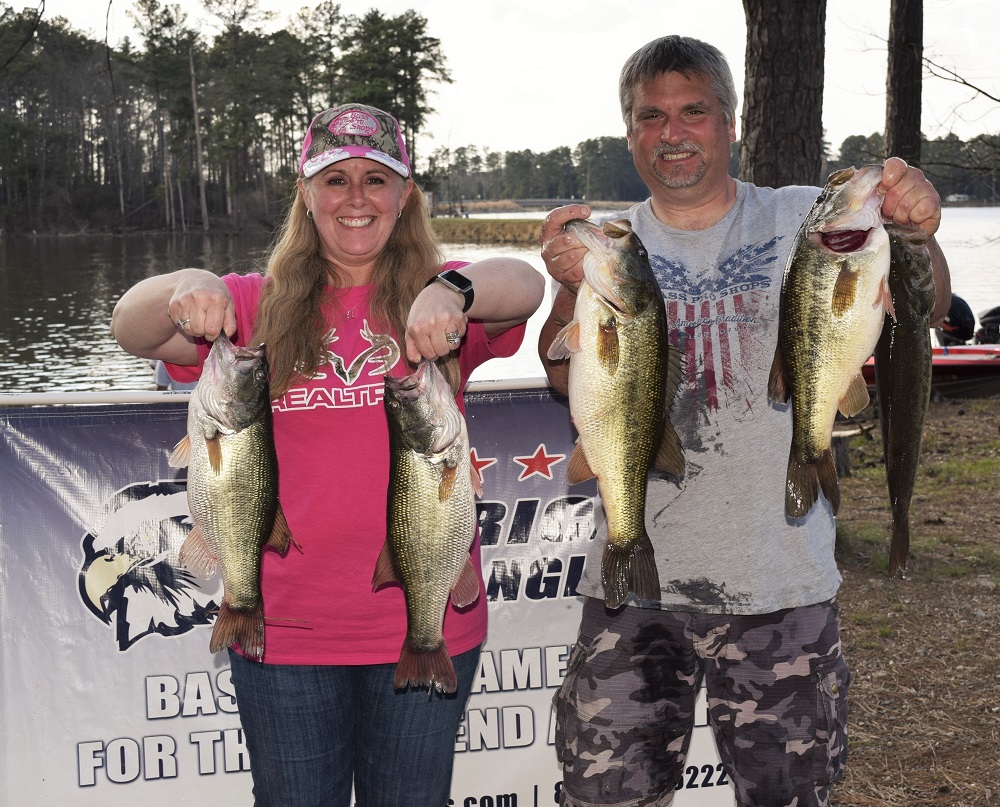 Lady's Big Bass was claimed by Martha Goodfellow with a hefty 4.8 pounder. Her fish was caught with a green pumpkin worm on a shakey head rig against a grass edge.
Justin Harvey's 6.2 pounder took Men's Big Bass. A jig pitched to a dock triggered this fish to bite. Shana's skills with the net must have been a major contributor to this success.
The great turn-out for the season opener allowed a pay-out to seven places:
Third Place: Stephanie and Ronnie Mueller, 17.4 pounds
Forth Place: Martha and Don Goodfellow, 17.0 pounds
Fifth Place: Amanda and Vince Smith, 15.9 pounds
Sixth Place: Missy and Tom Bankroft, 14.9 pounds
Seventh Place: Tiffany Sizemore and Boyce Boswell, 14.3 pounds
There were twelve new teams for the South Carolina Couples. Welcome! It's participation like yours that makes the Couples Series a great experience.
Nicole and Brian Tidwell, Seneca, SC
Andrea Stevens and Adam Vaughn, Pacolet and Lyman, SC
Bobbiejean and Danny Kelly, Gaston, SC
Cynthia and Johnny Johnson, Greenville, SC
Susan and Ron Carson, Greer, SC
Kelli and Corey Willimon, Seneca, SC
Laura and Javan Jordan, Hartwell, SC
Michelle McLain and Larry Moss, Prosperity, SC
Courtney Johnson and Deron Johnson, Anderson, SC
Shana and Justin Harvey, Gaffney, SC
Tiffany Sizemore and Boyce Boswell, Inman, SC
Praither Parketon and Richard Gosnell, Lyman, SC
South Carolina Couples local sponsors also get special recognition. Sponsor prizes were given in a drawing for those teams that didn't get prize money.
Strickland Marine continued their contribution to the Couples Series with 3 gallons of Mercury Optimax oil. Their generosity allowed 3 more teams to go home with a valuable prize.
Cabela's has provided a nice prize for each of the 2016 tournaments. Sheri and Lorne DeBord took home a Cabela's Guidewear auto-inflatable life jacket! Wear the best!
Yo-Zuri provided a great prize pack with multiple lures. Simpsonville Starbucks contributed a gift pack with coffee and a ceramic mug. Yeti contributed a pair of handsome visors and a custom opener. Scotty Bartley provided a package of custom jigs that have been attracting Lake Murray bass lately. Also on the prize table were a culling system and trolling motor handle from TH Marine. Many thanks to these sponsors and others for helping make more folks go home as "winners."
Also announced were the prizes to be offered for the South Carolina Series "Big Bass of the Year." ALX Rods, via Alex Dziengielewski, has provided a stunning rod. Kissel Krafts is also offering a custom rod, via a contribution from Shawn Hendrix. These prizes will be awarded for the Ladies' and Mens' "Big Bass of the Year" at the June Lake Greenwood tournament.
South Carolina Couples next event will be held April 2, 2016, on Lake Hartwell, out of Broyles Landing. For more information, call 864-630-3183 or email sc.aba.couples@aol.com.
All ABA American Couples Series events involve a team format with each team composed of one man and one woman. Although many married couples compete together as teams, some teams consist of boyfriend and girlfriend combinations, parent-child combinations or just two friends. Contestants between 12 and 18 years old may participate with a parent's written permission.
The top angling couples from across the nation earn the right to compete in the annual American Bass Anglers Couples Series National Championship tournament.
American Bass Anglers commitment is to provide low cost, close to home tournaments for the weekend angler and at the same time offer each competitor an upward path for individual angler progression. For more information about American Bass Anglers and the Ram American Fishing Tour, The Ram Truck Open Series, The Military Team Bass Tournament, The Ram 100% Plus Team Tour, or the American Couples Series, visit www.americanbassanglers.com or call (256) 232-0406