2/06/2017

James and Laura Bean Win on Neely Henry
James and Laura Bean of Weaver, Alabama captured the win for this weekends ABA Couples event on Neely Henry held on February 4th. The couple won with a 15.07 pound mixed bag of both Largemouth and Spotted Bass. They made a long run downriver to fish for largemouth early, but couldn`t resist chasing Spots he had found earlier in the week. James also had men`s big bass with a 5.33 largemouth.
12/20/2016

Michael and Danni Fox Win on Mountain Island
Michael and Danni Fox of Statesville, North Carolina won the second event for North Carolina D4 Couples Trail on Mountain Island Reservoir near Charlotte, North Carolina on December 17th, 2016. The Team took first place with a bag weighing 11.16 pounds which included a 3.14 pound kicker. Michael and Danni were a new couple for division 4. We would like to welcome them to the family. This was they're first time fishing a tournament together and it was a good one for them as they took first place.
12/12/2016

Mike Garlen and Rhonda Ford Win on Guntersville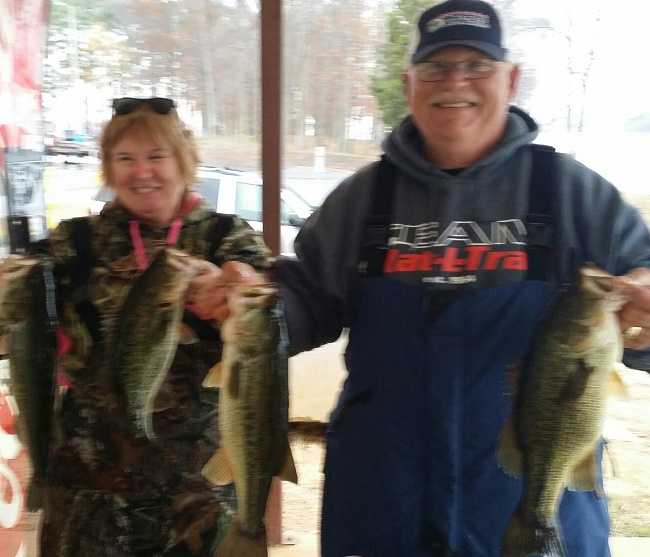 Mike Garlen of Athens, Alabama and Rhonda Ford of Cave Spring, Georgia won the December 3rd Couples event on Lake Guntersville this past Saturday. They did a clean sweep of Ladies' and Mens' Big Bass pots on their way to the victory. Their five bass limit weighed 13.71 pounds. Mike's Big Bass weighed 3.20 pounds and Rhonda's weighed 3.13 pounds. Winning strategy for Mike and Rhonda was throwing small Crankbaits.
12/12/2016

Barry and April Stokes Win on Jackson
Barry and April Stokes of Covington, Georgia took first place at the Couples Georgia D2 event held on November 19th at Lake Jackson. The couple brought in a total weight of 15.10 pounds. April also caught a 4.53 pound Lunker that she received Big Fish for the Ladies. The team won $888 for the day. They caught there fish on Underground Tackle jigs, Shakey heads, and crankbaits targeting 4 to 8 feet of water.
12/05/2016

Joseph and Dimple Clevinger Win on Mitchell
Joseph and Dimple Clevinger of Troy, Alabama won the American Couples Series, operated by American Bass Anglers, Central Alabama D1 tournament, held December 3, 2016, on Lake Mitchell.
11/15/2016

Matt & Jennifer Vanzant Win on Logan Martin
Matt and Jennifer Vanzant of Sylacauga, Alabama won the American Couples Series Central Alabama D1 event held November 12, 2016 on Logan Martin Lake. Running out of Lakeside Landing in Cropwell, Alabama, Matt and Jennifer caught five bass weighing 14.38 pounds. For the victory, they earned a check for $630. The Vanzant's caught their fish on zara spooks and spinner baits.
11/09/2016

New Kentucky Lake Couples Directors
American Bass Anglers is proud to announce a new couples directors Mike and Donna Roe for Couple's Division 8 on Kentucky Lake. The Roe's will be running their team events out of Paris Landing, Big Bear and Fenton boat launches with the 2017 season to kick off April 2nd out of Big Bear located at 30 Big Bear Resort Rd, Benton, KY 42025 on Kentucky Lake.
Hello everyone! Donna and I would like to welcome you to the Kentucky Lake Division of the ABA Couples Tournament Series. We are excited to be a part of this series. Donna and I have been fishing Kentucky Lake for many years and believe it to be the best lake on the planet. We intend to make this division the best couples fishing experience available.
11/09/2016

Carl and Marcy Wilson Win at Sinclair
Carl and Marcy Wilson of Covington, Georgia took first place at the Couples Georgia D2 event held on October 29th at Lake Sinclair. The couple brought in a total weight of 11.87 pounds to earn them a total of $788 for their efforts.
11/08/2016

Bill Cain and Tricia Wood Win Clarks Hill
A chilly fall morning led to a comfortable afternoon for South Carolina Couples on Clarks Hill. The November 5th event was well attended with 31 teams participating. 130 fish were brought to the scales. 13 new couples joined the division.
10/10/2016

Askew's Claim Top Prize at Couples National
Bruce and Diane Askew of Lawrenceville, Georgia took home the title of Couples National Champion at the 2016 Couples National held at Lake Hartwell in Anderson, South Carolina. Running out of Green Pond Landing, the Askews brought in a five fish limit on both days of the tournament. On day one, their weight was 10.36 pounds and on day two their weight was 14.27 pounds giving them a two-day total of 24.63 pounds. They took home $4,000 for their efforts. This win secured the Angler of the Year title for the team as well. For this, they took home a TH Marine prize pack, a Doctor Dans supply box, and two Abu Garcia Revo XS.