5/24/2017

Marilyn and Scott Dalton Couples Tour Lake Guntersville Winners
Marilyn and Scott Dalton from Jasper Tn, bagged 16.00 lbs and Ladies Big fish of 4.17 lbs on their way to winning the Lake Guntersville Couples tournament this past weekend.
5/24/2017

Lake Russell Victory for Sherri and Jaris McGee
South Carolina's Couples Series hosted a tournament on Lake Russell on Saturday, May 20. Twenty-two teams showed up for the 6:00 am safe-light blast-off.
5/24/2017

Secret and Cory York win on Kentucky Lake
The fishing was exceptional on Kentucky Lake this weekend. Thirteen teams, our largest turnout to date, participated this Sunday and the results were outstanding.
5/23/2017

Attention Couples Championship Qualifiers:
There has been a change to the 2017 Couples Championship off-limits. The off-limits period is now from sunset on September 24th to safe light on October 1st. The change was made because there is a Ram Truck Open Series event on Eufaula the weekend of September 23rd-24th and we have anglers that will be fishing both events.
5/22/2017

The North Carolina American Couples Series has rescheduled their June tournament. This event will now be June 11th, 2017 at Lake Hickory launching from Whittenburg Access.
For more information on this event or any other North Carolina events contact director Keith Morgan at (828)659-4268 or call American Bass Anglers at (256)232-0406.
5/15/2017

Dusty and Jessica Robinson Win on Lay Lake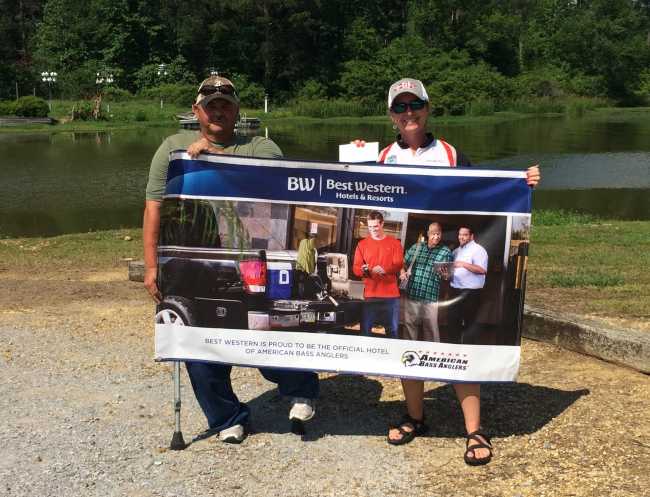 ATHENS, Ala. – Dusty and Jessica Robinson won the American Couples Series, operated by American Bass Anglers, Central Alabama Division 1 tournament, held May 13, 2017, on Lay Lake.
5/02/2017

Barclays Win on Kentucky Lake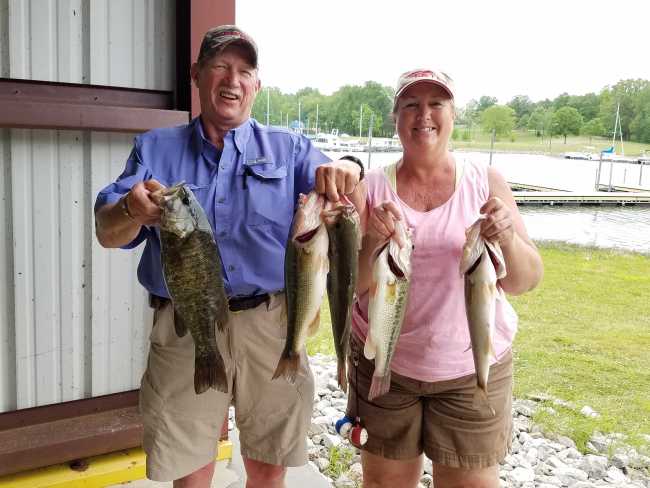 Sunday, April 30th was another great day to be fishing on Kentucky Lake, that is if you don't mind fishing in rain and 20 plus MPH winds all day. Seven teams braved the challenging conditions of the day and the competition was very close. Despite the conditions the bite was still good as the teams brought in 26 fish weighing 71.36 pounds, all released alive and well.
5/01/2017

American Couples Team Series comes to Oklahoma
Athens, AL. - American Bass Anglers is proud to announce a new couples Division for Oklahoma. Chris Koons and Jennifer Nicol will operate Couple's Division 12 in eastern Oklahoma. Chris and Jennifer will be running their team events on Grand Lake, Tenkiller, Fort Gibson, and Hudson. The 2017 season will kick off June 17 on Grand Lake out of Wolf Creek located at 963 16th St, Grove, OK 74344
Chris is originally from Oklahoma but moved away some time ago, along the way he met Jennifer who is originally from.....
4/24/2017

Matt and Emily Dean Win on Lake Mitchell
ATHENS, Ala. – Matt and Emily Dean won the American Couples Series, operated by American Bass Anglers, Central Alabama Division 1 tournament, held April 22, 2017, on Lake Mitchell.
4/14/2017

James Bean Wins Couples Event Solo on Lake Guntersville
James Bean from Weaver, AL had to fish by himself during the Alabama North Couples Tour event held on Lake Guntersville April 8th,2017. Fishing alone and having his trolling motor quit on him mid-day didn't keep James from victory.